Featured Vacation Rental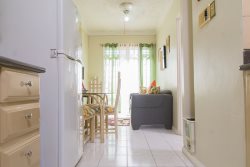 Jamaica Vacation Rentals - beautiful yet affordable New Kingston city Apartment
Prohomesja Vacation Rentals Communities
This is by far one of Ocho Rios best kept secret- superbly situated alongside a sandy surreal sea-side
Gated Kingston Jamaica vacation rental community with 24 hour security and pool
This residential gated community of Chelsea Manor Apartments, Kingston Jamaica, is located in the heart of New Kingston. With manned security guards, 24 hours a day, this vacation rental community is not only ideally located but also secure.
Almost entirely surrounded by beaches, holiday rentals in Columbus Heights will give you the chance to discover a part of the beautiful town of Ocho Rios for its incredible natural diversity and abundance of history and culture all within one region. The diversity and geographical beauty of the town of Ocho Rios makes it the perfect destination for a holiday apartment or villa rental in Jamaica, whether it's peaceful tranquility you seek or adventure and a lively social scene.
The El Monte apartment complex is a wonderful neighborhood which is newly developed, it has 24-hour manned security; remote access entry; ample parking, well maintained large pool house with swimming pool and gym; and beautifully tiled walk area and parking area with colored bricks throughout the entire complex.
La Perle Gated community in Kingston Jamaica
Gated, quiet, residential neighbourhood of Havendale located in the city of Kingston. You'll only be an 8 minutes drive from the business district and entertainment hub and a 2 minute drive away from 2 supermarkets, a Shell gas station, Pizza Hut and a shopping plaza. You'll love this lushly landscaped complex equipped with electronic gate, video intercom, back-up water tanks, and laundry facility.
Oaklands is a centrally located community with a mixture of high-rise apartments and 3 and 2 bedroom townhouses. The grounds, common areas and buildings are excellently maintained. The complex is a gated residential community with 24 hours manned security. This unit comes with central laundry facility, equipped with washer and dryer. At Oaklands: • Jog - at your preferred time, 24/7 on the grounds of Oaklands. • Tennis – it's yours for a small fee. • Public Transport – 1 minute from your front door.
Sand Castles Resort Apartment Complex is perfectly situated in the heart of the Ocho Rios. Beautifully landscaped gardens, south of the the crescent-shaped Turtle Beach. Shops, restaurants and bars are an easy walk away. The complex features 1 and 2 bedroom apartments with balconies and patios, each with its own kitchen or kitchenette and private pool.
Included on the Sea Gardens Beach Resort is a private pool, Jacuzzi and a Tennis Court. With lush garden areas and on property resturants there's plenty to enjoy outside your beautiful room. We offer our guests high end accommodations, excellent services and convenience at affordable prices. Whether your visit is for business or pleasure, a warm and friendly team awaits you!
This residential gated community of Strathairn Court, Kingston, is a stone throw away from New Kingston and Half way tree. With ample parking area , and manned security guard house on a 24 hour basis this is an ideal vacation rental community.
Fabulous business vacation condos in the heart of Kingston Jamaica. Highlighted with a comunial gym and fabulous views of Kingston.
Winchester Estate is a secured residential development situated within walking distance from Kingston's major retail hub, Half Way Tree and Jamaica's business district, New Kingston. Winchester Estate is a gated community with remote access. There are two uniformed security guards on the complex 24 hours. These guards work in conjunction with a rapid response security company that has overall responsibility securing the complex. There is ample parking with marked personalized parking as well as a visitor parking area.
Kensington Apartment is a gated community with 24 hour manned security. With green garden areas and comfortable free reserved parking, you can be assured that both you and your car will be safe.
Situated in the secured Kensington Court vacation rental community in New Kingston. The complex has 24-hour manned security with a security post at entrance. This community also has free reserved parking and beautiful green garden areas. There is also laundry facilities in the form of a communal laundry area, which has token operated washing machines and dryers.